Even if you're not usually a spa person, visiting a Moroccan hammam is an essential part of any Moroccan holiday. Don't go in unprepared! If you're wondering what happens in a hammam, read this post before you go.
What's in our guide to Moroccan hammams?
This article may contain affiliate / compensated links. For full information, please see our disclaimer here.
I remember the first time I visited a Moroccan hammam, back before the internet contained all the world's knowledge. It was a local hammam in a small town far off the beaten track. As I walked through the door, I suddenly realized I had no idea what to expect from a hammam.
What should I wear inside? What did a hammam treatment entail? Did I need a towel? A scrubbie? Soap? Was I even welcome there?
After being dragged through the process by a local woman with whom I shared not one word of common language, I realized it would have been much more fun if I'd come prepared.
It was a real "experience" but it was far from relaxing or refreshing!
To help you avoid the same stressful and confusing experience, read on to find out…
What to Expect on Your First Visit to a Moroccan Hammam
Hammam Video Walk-Through
Watch our video for the full hammam experience explained!
What is a Hammam?
Hammam is just another word for bath house.
Like most bath houses around the world, in a Moroccan bath, you can expect to be steamed, soaked, scrubbed, and come out sparkly clean.
For Moroccans, a hammam bath is also a social event.
When Stephen goes to the local's hammam in Morocco, the men chat as they bathe, and even offer to wash each other's backs. If you can speak Arabic, you'll probably be able to get in on this back-scrubbing exchange if you want!
But don't worry, no one has ever tried to chat with Stephen in the hammam or wash his back.
My first time in a local's hammam was the first time I saw Moroccan women totally at ease. There were kids playing and women washing each other's hair and scrubbing each other's backs. There was a convivial feeling in the air that I never saw on the streets of Morocco.
Going to the hammam, for Moroccans, is the time to let their hair down and be totally relaxed.
The Two Kinds of Moroccan Hammam
There are two distinct kinds of hammams in Morocco:
The locals hammam
The tourist hammam
On your first visit, I recommend going to a tourist hammam, sometimes known as a hammam spa. Or you could just get a hammam treatment at your riad.
You'll feel more comfortable (and get fewer stares). Plus, hammam spas have someone there who can help you through the process, since they'll assume you don't know what to do.
Once you get comfortable in a tourist hammam, don't miss a trip to a traditional Moroccan hammam, where you'll get to experience an integral part of Moroccan culture.
Want to See Morocco Like a Local?
We went on a cycling tour in the mountains of Morocco and it was one of our best travel experiences yet! Find out how to do it here.
Six Steps for a Moroccan Bath
Step 1: Get undressed – what do you wear in a hammam?
After you arrive at the hammam, an attendant will show you to a changing room, where they will give you a robe and a locker and tell you to get undressed.
Women can either go naked or wear bikini bottoms or underwear into the hammam. I always wear my bikini bottoms because, hey, I just feel more comfortable that way!
Men must wear bottoms. You can wear underwear or a bathing suit, or sometimes you will be given a disposable pair of underwear to put on.
Once you are suitably undressed, put on your robe and go meet your hammam attendant.
Note for ladies: You can go to a hammam on your period. Just use a tampon or menstrual cup and wear good underwear!
Step 2: Relax for five minutes
The attendant will take your robe and usher you into a hot, steamy room where you'll hardly be able to see a thing. Your first job here is to sit back and relax. The steam will start to open your pores and a few deep breaths will help you let go of the stress of wandering through Moroccan souks.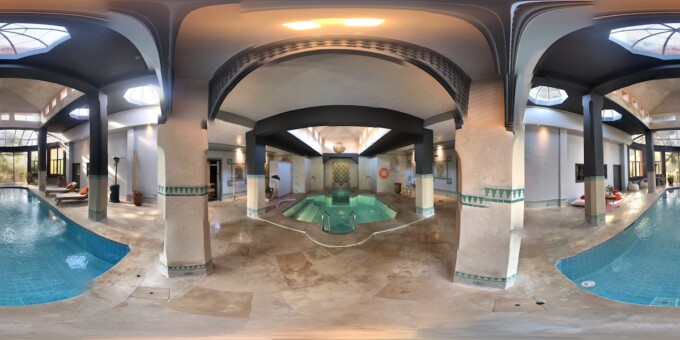 Step 3: Soap up
After five minutes or so, the attendant will return with a bowl of thick black Moroccan soap. It looks a little like molasses or crude oil, but don't worry, it will feel great on your skin.
You'll have to stand up, sit down, and turn around as the attendant soaps up your legs, feet, back, and face. She might even reaching down the back of your underwear to get at your butt cheeks!
Once the soap is on, you can rub it gently into your skin as you sit back and relax for another five minutes. I know, so stressful, right?
Step 4: Hot rinse
Depending on the hammam, the attendant will come back with a full wooden bucket or plastic pail of water. She'll scoop the water out, using it to rinse off your soap.
This water can be shockingly hot — but I've never been burned yet!
Step 5: Rough scrub
Once the soap is all off, the torture starts. No, I don't want to freak you out but this step can be extremely… uncomfortable.
The attendant will use a rough sandpapery hammam glove to scrape away your outer layer of dead skin. We Westerners tend to have a shocking amount of old skin — unlike Moroccans who regularly exfoliate their entire bodies.
Don't be surprised if the attendant is pretty rough with you. But if it's too rough, don't be too shy to tell her to take it easy!
Step 6: Hair wash
If you're at a one of the fancier hammams, your treatment will include a hair wash. Lie back and luxuriate in the rare experience of someone else washing your hair for you. Such a treat!
And finally… relax with tea
Once you've been buffed and scrubbed there's one final step which cannot be skipped. You'll put your robe back on and go to a relaxation area where you'll be given a steaming cup of sweet Moroccan tea.
If you're anything like me, at this point your body will feel like jelly and your mind will be free of any cares. That cup of tea will give you the chance to wake up a little before facing the outside world, a shinier, sparklier version of yourself.
Tips for Visiting a Local's Hammam in Morocco
How to find a local's hammam
As you're wandering around the streets of the medina near your riad, keep your eyes open for any of these signs that there's a traditional hammam nearby:
Piles of firewood on the side of the road
A doorway leading down a set of steep stairs to a roaring fire
Two small doorways on either end of a building marked Homme and Femme
If you see any of these things, you've found a hammam!
What to bring to a Moroccan hammam
Unlike a tourist hammam, nothing will be supplied for you at the local hammam. You'll need to come prepared with:
A little money — the hammam will cost around 10 dirhams
A towel
Underwear or bathing suit bottoms
Soap — you can use black soap, but locals often just use a bar of soap
You can easily buy soap and a hammam glove for a few dollars in the souk before you go.
What to wear in the hammam
Just like at a tourist hammam, women can either go naked or wear bikini bottoms or underwear. In the hammams I've been to, most women wear a pair of underwear. If you're blonde down there, a pair of underwear will save you from lots of enquiring looks at your private parts.
Men need to wear underwear into the hammam. A pair of boxers is perfect, but you can also wear swim shorts or y-fronts or whatever you have.
What to expect at a local hammam
Depending on the hammam, you may be able to hire an attendant to scrub you down. To arrange this, it will help if you speak a little French. If not, I hope you're good at sign language because it's highly unlikely that anyone in the hammam will speak English.
But if you want to do as most locals do, take a DIY approach.
Once you pay, you will be shown to a room with benches (it may be right in the entry) where you get undressed and leave your belongings. There won't be a locker, so don't bring your valuables.
Go through to the next room, where you can pick up a few buckets. These buckets will be for your hot water for the first few rinses, followed by cool water for the final rinse.
Find somewhere to sit, fill your bucket and follow the steps above in the tourist hammam section.
If you're really comfortable, ask someone else to scrub your back and you can scrub theirs in return!
How often should you go to a hammam?
Going to the hammam is a seriously deep cleaning experience. Especially if you have a treatment from a pro, you will not believe how much dead skin is removed.
Because of this, you shouldn't head to the hammam on a daily basis or your skin will be very angry! If you're not used to exfoliating like this, I would suggest going a maximum of twice a week but once a week is probably plenty.
And that's it! Now you've experienced a hammam in Morocco!
More Morocco Travel Tips
We hope this post has inspired you to be brave and try out a hammam while you're in Morocco. It's a great experience and will give you a glow that you never knew was possible!
♥ Happy mindful adventures, Jane & Stephen